At Marburn Academy, we are education specialists. We move beyond the IEP, beyond special education services and deliver an experience that is immersed in accommodations and interventions. All students have access to speech and language screenings, assistive technology resources, and trained professionals who approach teaching using evidence-based practices designed to effectively support student learning. If we had to break it down, we'd say the Marburn Difference looks a little like this:

NO RESOURCE ROOM HERE. JUST INTENTIONAL CLASSROOMS.
Integrated into the overall program, students stay with their classmates, rarely missing general education content – they often enjoy – for intervention. Instead, we strategically place opportunities for intervention throughout the day including an intervention period called "Panther Block" focused on each student's academic need. A cornerstone of our program, as 1 of only 19 programs certified by the Orton-Gillingham (OG) Academy, is that we've placed trained OG faculty throughout all classes.
WE HAVE SMALL CLASS SIZES. ACTUALLY.
While other schools may say their ratios are low, at Marburn we take it even further by employing two full-time licensed teachers in classrooms, grades 1-8. This allows for more academic and whole-child support. In case you're still wondering, our student-to-teacher ratio is generally 8:1 in grades 1-8 and 16:1 in grades 9-12.
WHEN WE SAY WE'RE ON THE SAME PAGE, WE MEAN IT.
With consistent strategies and tools used throughout classrooms and grade levels, students know what to expect and how to navigate their journey. Emphasis is placed on intentional use of common vocabulary, similar approaches to whole-child support and building a strong foundation for executive functioning, and reinforcement of students' rights and responsibilities.
WE'LL BUILD YOUR STUDENT UP, NOT BREAK THEM DOWN.
Strengths can often get lost when challenges arise. Students who have struggled in school need guidance and support to explore and develop their strengths and talents. Voyageurs, theatre, robotics, clubs, High School May Term, and more allow students to build affinities and confidence in who they are and what they excel in. We are not defined by our weaknesses and it is our obligation to ensure students know that, as they move out into the world.
HERE, WE'RE IN IT TOGETHER.
While no single story is the same, Marburn families and students find a community that understands. They connect over shared experiences, relish belonging, and find acceptance, appreciation, and celebration in their new home at Marburn. When issues arise, Marburn and families partner through it together.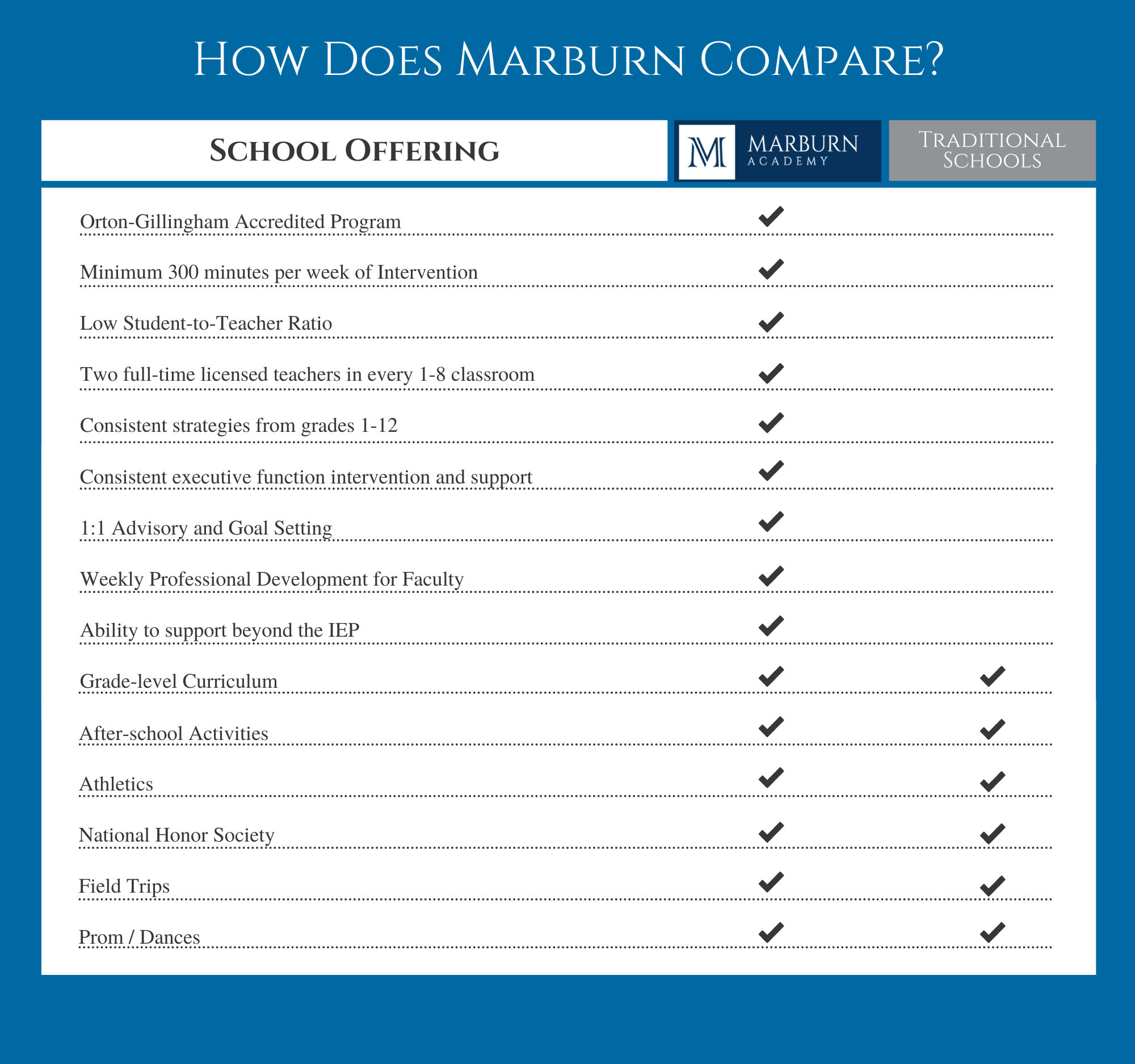 Interested in learning more?