Enrollment at Marburn Academy
Marburn Academy is an independent day school for students in Grades 1–12* who learn differently.
At Marburn, we understand the distinct academic, social, and emotional needs of our students and celebrate their individual learning styles. Our program focuses on meeting students where they are, understanding their strengths and challenges, and providing a safe, positive learning environment where they can experience success. Our primary goals are to:
grow specific core academic skills based on student deficits;

work with students to support and grow essential executive function skills;

provide personalized attention for each student; and

provide opportunities for developing confidence, self-advocacy, and self-awareness.
Student Profile
Marburn Academy's student profile is used as a tool to evaluate whether the organization is able to meet the needs of prospective and current students. Assessing whether prospective students are a fit for our program, or continue to be a fit in the case of current students, is a complex and sometimes lengthy process. However, it is one we take seriously as we endeavor to meet the needs of enrolled students and to ensure that those who are seeking enrollment are able to find success.
Admission to or continued enrollment at Marburn Academy is based on a variety of factors including but not limited to: evaluating whether the student meets the student profile guidelines, the student will benefit from our program, available space, and the student and family's commitment to adding value to the community by being an active partner.
Marburn's student profile and program are designed to support students for a minimum of two years. It is important to note that Marburn's comprehensive program meets Ohio's graduation requirements. Families may choose to continue enrollment while the program continues to meet the needs and supports growth of their student.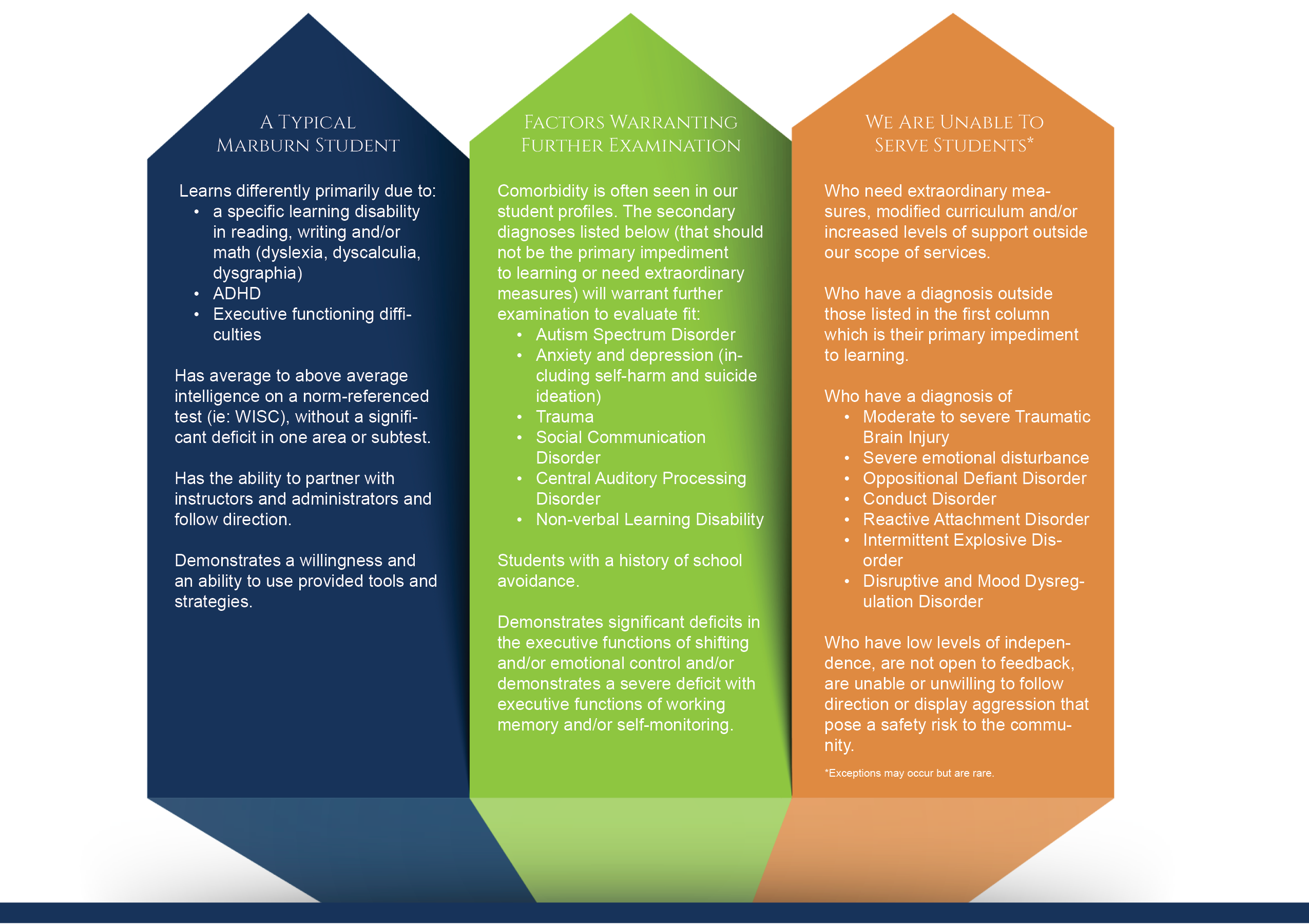 To learn about the enrollment process at Marburn Academy, please click here. Feel free to sign up for a 15-minute introductory call below or complete our online Inquiry Form. We are happy to discuss our program with you and learn more about your child's needs.
Ready to get started? Schedule your 15-minute introductory call now!
Antidiscrimination Statement
Marburn Academy admits students without regard to race, color, creed, gender, national origin, sexual orientation, or gender identity to all rights, privileges, programs and activities of the school. The school will not discriminate on the basis of race, color, creed, gender, national origin, sexual orientation, or gender identity in administration of its educational policies, scholarship and loan programs, and athletic and other school-administered programs.
*First grade available based on the number of qualified applicants.